Tribute for Charlie Gaines
Longtime TTPA Trail Steward Charlie Gaines passed away 22 February 2016. Charlie was a driving force behind the Trinity Trail, since its early beginnings, and was a founding Board member of the TTPA. Everyone loved Charlie and loved seeing him fly by on his magical horse Spirit.
Here is Charlie's Obituary
---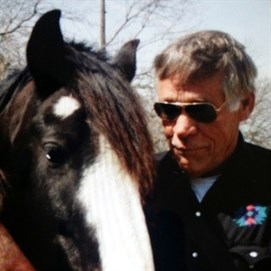 Charles "Charlie" Gaines, age 76, passed away peacefully at his home in Lucas, Texas on February 22, 2016, after a two year battle with cancer. He was born on March 7, 1939 in Henning, Tennessee to Charlie William "C.W." and Beatrice (Steelman) Gaines. On December 26, 1988, Charlie married Mary Ruth Endsley in Dallas, Texas. He was a beloved husband, father and grandfather. He retired from Air Liquid in 2002 after thirty five years. For thirty years Charlie was a dedicated servant to the residents of Lucas and Collin County. He served on the Lucas City Council for ten years, Collin County Parks Board and was a founding member and driving force for Trinity Trails and Preservation Association (TTPA). Charlie also served in the U.S. Air Force and was a Mason. He loved riding his beloved horse, Spirit, on the many trails created by TTPA.
He is survived by his wife, Mary; son, Kevin and wife Amy (Blailock); daughter, Christie Cannon and husband Kevin; grandchildren, Seth Gaines, Charlie Gaines, Peyton Gaines, Daniel Low and Kaitlyn Cannon; brothers, Bill Gaines and wife Joann, Maurice Gaines and wife Sue; sister, Ella Jo Gaines; many nieces, nephews and other loving family members and friends.
---